We have a range of classes that are included in our monthly membership, or if you prefer you can "pay as you go"
Piyo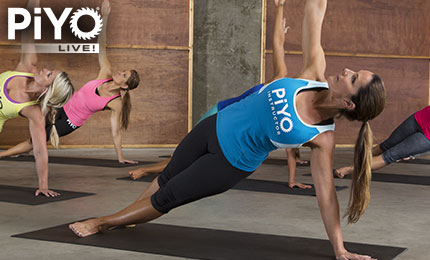 Sweat, stretch, and strengthen—all in one workout! This unique total-body conditioning workout inspired by the muscle-sculpting, core-firming benefits of Pilates and the strength and flexibility training of flowing yoga movements.
Kettlebells
A Kettlebells workout is an effective fat burning class designed to shape and sculpt your body. Build muscle, lose fat and gain a lean toned body. It's fun, super quick and super effective!
Bodysculpt
Get lean, build strength and tone muscle with this weights based class designed to work all the major muscle groups.
Metafit
30 minute body weight training programme. An effective, simple workout that uses high intensity interval training principles.
Step
A great way to exercise using a step to jump, step, jog, dance, move over and move around while enjoying a great workout.
Boxercise
Great Cardio class using boxing moves and circuit training. Using boxing techniques in a fitness class environment helping you burn body fat, improving strength and endurance.
Spin
An aerobic-based indoor cycling class that helps to improve cardiovascular endurance.
Spin 'n' Abs
A half-hour Spin class followed by a 15 minute core workout.
Circuits
An all over body workout using different equipment and training methods to improve all aspects of fitness